CDMS Sussex's values are built around bespoke services.
From aiding customers in finding their dream property to making a house a home through renovations, our team will always go the extra mile to make sure that our customers dream home becomes a reality.
Every step of the project, from the initial stages of drawing up plans, to the final stages of delivery are thoroughly considered.
The process of the project
As part of the planning process, our Project Manager Anthony Ackerman would work with architects to develop initial concepts into deliverable renovations.
However, Anthony felt that a prime opportunity was being missed when it came to the visualisation of the project and understanding the 'final concept'.
Fortunately, Jennifer, our CDMS Kitchen Design Consultant, has extensive knowledge and understanding of illustration, having graduated from university in Book Illustration. Since leaving university, Jennifer has mostly been working with CAD design for kitchens, completing the odd private bespoke painting as individual commissions.
Now, Jennifer works with Anthony and project architects to produce hand-painted plans. This is something that not only helps Anthony to visualise the client's project but eventually serves as a keepsake for the customer on the completion of the project.
Personal touches with CDMS Sussex
Realising how helpful the paintings are in the process of project visualisation, Anthony and Jennifer realised the extent to which the final painting would mean to the customer on the completion of their renovations.
Taking anywhere between 3 days and 3 weeks, depending on the progression of the project, the finished painting can include everything from specialised renders and finishes to flowerbed placements and colours.
All the paintings are bespoke, hand-drawn with pencil, detailed with pen and ink and finished with watercolour, allowing an element of fluidity to a visual element of the process that is far removed from computer generated architecture designs.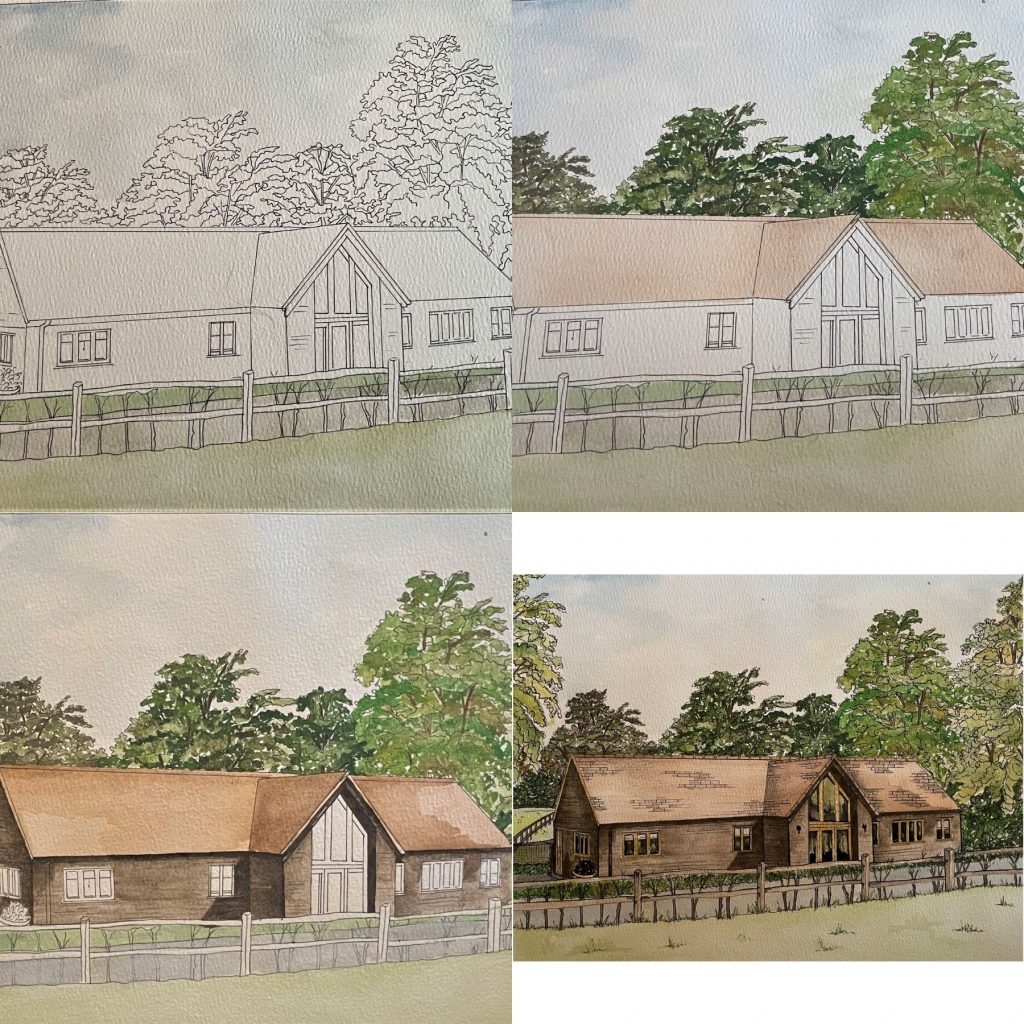 Our customers have loved this personal touch so much, that some have requested commissions of other elements of their property.
We are so pleased to have received such a fantastic response to a process that aids our teams in the delivery of a project and holds so much sentimental value to our customers.
Ready to start your renovation journey? Find out more about our bespoke, end-to-end services, here. Alternatively, give us a call on 01444 848278